Receptionist Skills Training Course
Our Receptionist Skills Training Course will show those who work on reception how to create a great first impression for your business.
The course looks at the behaviours a receptionist will need to demonstrate to give a great first impression. It also looks at the skills needed to handle people in a friendly yet efficient way and deal with irate people and complicated requests.
This Receptionist Skills training course is delivered as a scheduled open online training course or in-house just for your business. We deliver the course as a face to face course and a live virtual online course.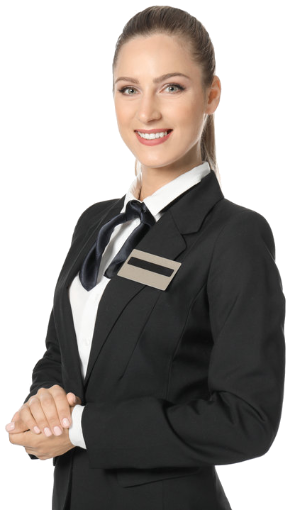 Interactive Sessions
We'll show you how to put the skills from your receptionist skills course into practice
Practical Tools
Gain the skills to provide a fantastic first impression of your business
Always Engaging
Our training courses have been designed to be interactive and engaging, no matter how you attend
Receptionist Skills Course – Details
Course Aim
This Receptionist Skills Training Course aims to provide those who work in reception areas with the skills and behaviours needed to deliver exceptional service to visitors and customers (both internal and external), providing a great first impression.
Course Objectives
By attending this Receptionist Skills Training Course you will:
Understand the importance of the role of reception and the receptionist
Know what skills to use and behaviours to demonstrate to provide an excellent service and a great first impression
Be able to demonstrate skills to work in a friendly but efficient manner
Know how to deal with irate people and complex requests effectively
Course Content
Here's what we cover in our receptionist skills training course:
The Role of Reception and Receptionist
What is the role of reception and receptionist
The objectives of the receptionist
Key challenges faced by the receptionist
What do visitors and customers expect of a receptionist
Skills and Behaviours of a Receptionist
The skills needed to be an effective receptionist
The behaviours a receptionist should demonstrate
Giving a bad impression
Individual Skills
Looking at the individual skills (i.e. empathy, questioning, assertiveness, communication etc.)
Communication styles
Questioning and listening
Assertiveness
Right First Impression
Being aware of your body language, voice and the words you use
Maintaining a calm and friendly approach even when it's busy
Being pro-active during quieter times
Ensuring people have a great experience with reception
Dealing with Complaints, Irate People and Complex Queries
Understanding the common complaints made to reception and how to deal with them
Diffusing anger and irate people
Understanding complex requests and dealing with them efficiently
When you bring this course in-house, the content above can be tweaked and changed to meet the needs of your team.
Download the Course Brochure
Download a copy of our receptionist skills training course brochure below.
Who Should Attend our Receptionist Skills Training Course?
This receptionist skills training course is for anyone who works in a role that greets and interacts with customers on a reception desk.
If you want to:
Know how to provide a great first impression
Be able to deal with complicated visitor requests
Maintain high standards for visitors
Have a clear process for welcoming and checking in visitors
Reduce complaints and negative views of your business
Then this receptionist skills course is for you.
The course is suitable for people of all levels and in all roles and industries.
Online Training Courses
A 1 day online live virtual training course with one of our highly experienced receptionist skills trainers. You also get:
A highly interactive online experience
Access to MyRevolution Learning to retain access to your materials and stay in touch with your trainer
A digital copy of the course materials from the course
A digital course certificate
In-Person & Online In-House
A 1 day training course with one of our highly experienced trainers at your location. You also get
Course materials for each delegate to take away
A course certificate
Reporting on delegate evaluation
Free access to our eLearning training courses to keep your skills up-to-date
Access to MyRevolution Learning to retain access to your materials and stay in touch with your trainer
Our receptionist skills courses are delivered by our friendly and highly experienced trainers. We live and breathe what we talk about in these sessions as we use most of the tools and techniques ourselves on a daily bases and bring this real-world experience into the session and the examples that we use.
The skills from the course can be easily transferred to both face to face and telephone interactions.
The skills from the course can be easily transferred to any role whether it be surgery, office, hotel etc. We will work with you to ensure that you can take the skills and approaches and apply them to your role.
Receptionists are the first point of contact in many businesses, it's the first impression visitors and customers (both internal and external) get of your business. The role is just as important as any other in the business when it comes to generating customer satisfaction and supporting this group of people will add to the overall customer experience.
Open Online Course
Our Online Receptionist Skills course is an interactive live virtual course. The content remains the same but the delivery and approach has been re-imagined for the virtual environment. Our online training courses are delivered by Zoom.
In-House Delivery
We can also deliver this Receptionist Skills course just for your organisation. We can do this in-person at your office or a location of your choice or as a live virtual training course. We can deliver this via Zoom, Teams, Webex or any other platform that you are currently using and comfortable with.
Here are the most recent reviews that have been left for our Receptionist Skills Training Course. If you would like to see more detailed reviews then please get in touch and we can pull some data from our course evaluations together for you.
Course Delivery Methods
Here's how we deliver our Receptionist Skills Training Course. Click an option to see the full details.
Join our live online virtual Receptionist Skills training course from work or home for an interactive online learning experience.
Price per delegate includes multiple person discounts. Group booking price only applicable when delegates book onto the same course date.
Bring this Receptionist Skills training course in-house and train your team together at the same time.
Delivered online or in person at your business premises
Course content can be tailored to your specific requirements
Complete the form below to get a personalised quote from a member of our team.