Live Chat Support Training Course
Our Live Chat Support Training Course will show you best practice, tips and techniques to deliver high-quality customer service via live chat.
The course looks at best practices and tips and techniques to help deliver high-quality customer service to your customers who choose to use Live Chat Support.
This Live Chat Support training course is delivered as a scheduled open online training course or in-house just for your business. We deliver the course as a face to face course and a live virtual online course.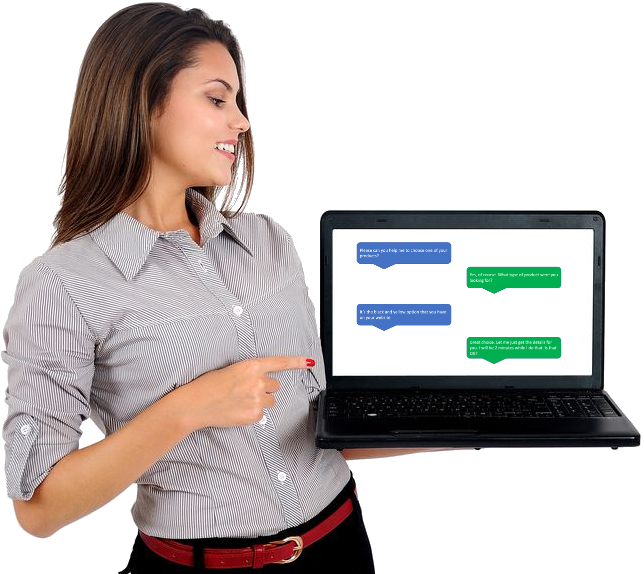 Interactive Sessions
We'll show you how to put the skills from your delegation skills course into practice
Practical Tools
Gain the right skills to deliver great customer service and support via live chat
Always Engaging
Our training courses have been designed to be interactive and engaging, no matter how you attend
Live Chat Support Course – Details
Course Aim
This live chat support course will introduce best-practice methods for using live help chat software.  The course will look at how to best use the system and how to ensure the customer or potential customer perceives the business as professional whilst using the chat system.
This session looks at how anyone can give exceptional customer service via live chat systems.
Course Objectives
By attending this Live Chat Support Training Course you will:
Know the benefits of using such a system to them, the business and the customers
Be able to identify the most frequent types of requests and questions they may and actually do get via the chat system
Know how to set the right tone with the person using the system, ensuring messages are not misunderstood or taken in the wrong context
Have agreed acceptable canned (pre-stored)responses to use with the system, and when to use them v's articulated responses
Know when to move the chat to another communication channel such as telephone
Be able to assess and evaluate how effective the chat was
Course Content
Here's what we cover in our live chat support training course:
Online Chat v's Other Support Channels
How does using chat compare to other support channels
Why will site visitors choose chat over calling?
What are the benefits of using the chat system
What are/will be the common requests and questions asked
Best Practice for Chat Support
What are the rules surrounding best practice for using chat support
Handling more than one chat session at a time
What to Say and What Not to Say
What words and phrases are acceptable to use in chat
Making sure your message isn't taken out of context
Case studies to review
Canned Responses
What are canned responses and when to use them
What are the benefits and downsides of canned responses?
Agreeing a set of canned responses for your role/department/business
Skills Practice
Replying to some common questions via a chat system (both paper based and live chat (with a trainer) if the location has internet connectivity.
When you bring this course in-house, the content above can be tweaked and changed to meet the needs of your team.
Download the Course Brochure
Download a copy of our live chat support training course brochure below.
Who Should Attend our Live Chat Support Training Course?
This live chat support training course is for anyone who interacts with customers via live chat or instant messenger.
If you want to:
Know how to deliver great customer service via live chat
Know the do's and don't and common pitfalls when delivering service via live chat/li>
Increase your 'first chat resolution' numbers
Understand best practices and etiquette for interacting with customers on live chat
Know more about the challenges you may face with live chat
Have a better understanding of the benefits of live chat
Then this live chat support course is for you.
The course is suitable for people of all levels and in all roles and industries.
Online Training Courses
A 1 day online live virtual training course with one of our highly experienced live chat support trainers. You also get:
A highly interactive online experience
Access to MyRevolution Learning to retain access to your materials and stay in touch with your trainer
A digital copy of the course materials from the course
A digital course certificate
In-Person & Online In-House
A 1 day training course with one of our highly experienced trainers at your location. You also get
Course materials for each delegate to take away
A course certificate
Reporting on delegate evaluation
Free access to our eLearning training courses to keep your skills up-to-date
Access to MyRevolution Learning to retain access to your materials and stay in touch with your trainer
Our live chat support courses are delivered by our friendly and highly experienced trainers. We live and breathe what we talk about in these sessions as we use most of the tools and techniques ourselves on a daily bases and bring this real-world experience into the session and the examples that we use.
Many businesses today are turning to Live Chat Support as a further channel of communication for their customers. We don't always recognise that the same level of customer service standards should still apply online as they do in face to face interactions.
When mistakes are made, customers hold on for longer than necessary or where poor spelling and punctuation exist, customers will leave with a bad impression of the company. If not managed correctly, live chat can have a negative impact on your brand and company.
There are too many platforms out there for us to look at these in the course. The course focuses much more on soft skills than technical platform skills. That said, we have researched a lot of these so are happy for you to ask us any questions you have during the course.
It's a mindset change more than anything. Because it's instant messenger, some people treat it like they are chatting with their friends online. It's easy to fall into that mindset. You get time to think and read back over what you write with emails. With live chat, there is added pressure as we know the customer is there waiting for us to reply.
Open Online Course
Our Online Live Chat Support course is an interactive live virtual course. The content remains the same but the delivery and approach has been re-imagined for the virtual environment. Our online training courses are delivered by Zoom.
In-House Delivery
We can also deliver this Live Chat Support course just for your organisation. We can do this in-person at your office or a location of your choice or as a live virtual training course. We can deliver this via Zoom, Teams, Webex or any other platform that you are currently using and comfortable with.
Here are the most recent reviews that have been left for our Live Chat Support Training Course. If you would like to see more detailed reviews then please get in touch and we can pull some data from our course evaluations together for you.
Course Delivery Methods
Here's how we deliver our Live Chat Support Training Course. Click an option to see the full details.
Join our live online virtual Live Chat Support training course from work or home for an interactive online learning experience.
Price per delegate includes multiple person discounts. Group booking price only applicable when delegates book onto the same course date.
Bring this Live Chat Support training course in-house and train your team together at the same time.
Delivered online or in person at your business premises
Course content can be tailored to your specific requirements
Complete the form below to get a personalised quote from a member of our team.