Facilitation Skills Training Course
Our Facilitation Skills Training Course will show you how to engage people during meetings and get more ideas onto the table.
The course will show you how to make your meetings more productive by gaining engagement and driving actions. We'll show you how to increase responsibility, tackle complex issues, and deal with different behaviours.
This Facilitation training course is delivered as an in-house just for your business. We deliver the course as a face to face course and a live virtual online course.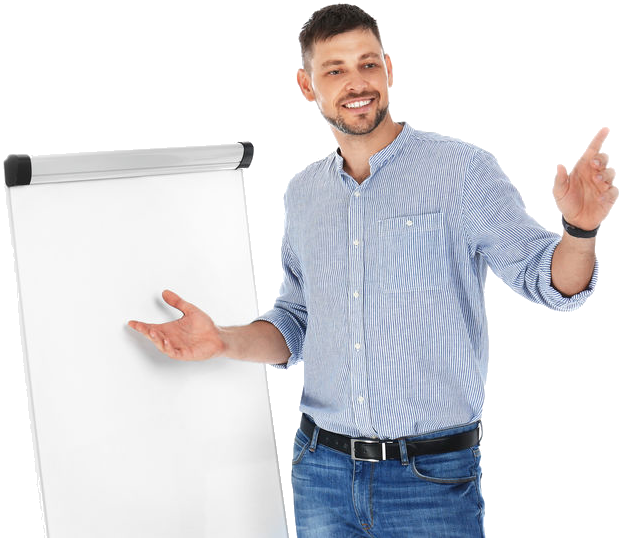 Interactive Sessions
We'll show you how to put the skills from your facilitation skills course into practice
Practical Tools
Gain the tools needed to run productive meetings through facilitation
Always Engaging
Our training courses have been designed to be interactive and engaging, no matter how you attend
Facilitation Skills Course – Details
Course Aim
This facilitation skills course is designed for you to explore the communication skills and techniques required to successfully facilitate events, workshops and meetings in a business context.
Interactive theory and practical sessions will engage you in a variety of realistic scenarios where you will receive feedback on your approach. From ice breakers and energisers to handling difficult people and situations, this workshop will help you to discover and develop new facilitation skills.
Course Objectives
By attending this Facilitation Skills Training Course you will know how to:
Develop the skills and confidence to help groups take ownership for generating ideas, solve problems and agree direction and plan actions
Contract productive, purposeful relationships with groups
Deal with challenges and difficult group behaviours
Ensure high levels of participation and creativity in groups
Identify and improve your strengths as a facilitator.
Course Content
Here's what we cover in our facilitation skills training course:
What is Facilitation?
Defining what the process of Facilitation is and when's it used?
The Facilitator
What is the role of the Facilitator?
What are the necessary skills and behaviours of an effective Facilitator?
The Skills
Effective questioning and a Facilitator
Structuring a facilitated meeting
Probing to explore new possibilities
Listening effectively
The Role
Keeping the group motivated and maintaining momentum
Clearing blockages
Dealing with conflicting members and views
Capturing Ideas
Creative ways to capture actions
Closing out the meeting
Skills Practice
An opportunity to practice the skills.
When you bring this course in-house, the content above can be tweaked and changed to meet the needs of your team.
Download the Course Brochure
Download a copy of our facilitation skills training course brochure below.
Who Should Attend our Facilitation Skills Training Course?
This facilitation skills training course is for anyone looking for ways to get more out of the meetings they run.
If you want to:
Know how to drive more actions from meetings
Increase responsibility and ownership for actions
Motivate meeting attendees to get involved
Be able to deal with a range of different behaviours in meetings
Know how to manage disagreements and 'blockages' in meetings
Have a better approach to running meetings
Then this facilitation skills course is for you.
The course is suitable for people of all levels and in all roles and industries.
In-Person & Online In-House
A 1 day training course with one of our highly experienced trainers at your location or online. You also get
Course materials for each delegate to take away
A course certificate
Reporting on delegate evaluation
Free access to our eLearning training courses to keep your skills up-to-date
Access to MyRevolution Learning to retain access to your materials and stay in touch with your trainer
Our facilitation skills courses are delivered by our friendly and highly experienced trainers. We live and breathe what we talk about in these sessions as we use most of the tools and techniques ourselves on a daily bases and bring this real-world experience into the session and the examples that we use.
Facilitation is a method whereby one person is allocated the role of facilitator in a meeting. It's that person's job to use a mixture of guiding and directing techniques to drive actions from the meeting. Their job is to ask questions, manage delegates, push for agreement and action and bring the meeting to a successful conclusion.
Yes. The course will provide you with lots of tools to apply in situations where meetings become difficult.
In-House Delivery
We currently only deliver this facilitation skills course just for your organisation. We can do this in-person at your office or a location of your choice or as a live virtual training course. We can deliver this via Zoom, Teams, Webex or any other platform that you are currently using and comfortable with.
Here are the most recent reviews that have been left for our Facilitation Skills Training Course. If you would like to see more detailed reviews then please get in touch and we can pull some data from our course evaluations together for you.
Get a Quote
Bring this Facilitation Skills training course in-house and train your team together at the same time.
Delivered online or in person at your business premises
Course content can be tailored to your specific requirements
Complete the form below to get a personalised quote from a member of our team.