Process Mapping Training Course
Our Process Mapping Training Course will introduce you to the basics of putting together process maps and how to use them to drive continuous business improvement.
Do you want to make better business decisions and make the process of communicating business processes more effective? Find out how to make better decisions and improve training in your business.
This Process Mapping training course is delivered as a scheduled open online training course or in-house just for your business. We deliver the course as a face to face course and a live virtual online course.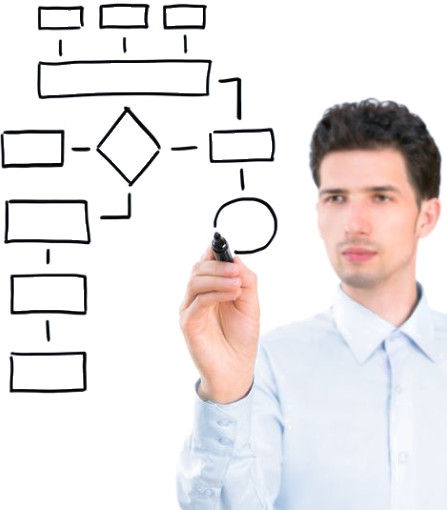 Interactive Sessions
We'll show you how to put the skills from your process mapping course into practice
Practical Tools
Gain a process mapping toolkit that will drive continuous improvement in your business
Always Engaging
Our training courses have been designed to be interactive and engaging, no matter how you attend
Process Mapping Course – Details
Course Aim
This Process Mapping Training Course will introduce you to the process of Process Mapping. The course will show you how to build a basic process map and then how to use them effectively once assembled.
The course will show you how to do this in a collaborative way, gaining buy from those who are directly and indirectly affected by the process.
The course also allows ample time for building a process map and discussions around process mapping.
Course Objectives
By attending this Process Mapping Training Course you will:
Understand what process mapping is and its benefits
Know how to produce basic process maps
Be able to apply basic analysis techniques to business processes and how to use process mapping to improve them
Be able to demonstrate the process of process mapping using real examples
Course Content
Here's what we cover in our process mapping training course:
What is Process Mapping
What is a process map?
What are process maps used for?
What are the benefits of using process maps
What can process maps help your business to achieve
The Process Map
The steps of process mapping
The components of a process map
Lines and symbols used in process mapping
Building a Process Map
Step by step process
Involving and engaging the team in the process
Analysing a business process then preparing to map it
Start broad -> get to the detail
Laying out the initial map
Pulling it all together
Your First Map
Team exercise to build your first map
Documenting the map once complete
Checking the map for accuracy
Then What?
What to do with your map once you have it
How to reap the benefits from your map
Communicating the map to others
Mapping one process map to another
When you bring this course in-house, the content above can be tweaked and changed to meet the needs of your team.
Download the Course Brochure
Download a copy of our process mapping training course brochure below.
Who Should Attend our Process Mapping Training Course?
This process mapping training course is for anyone who needs to design, create and communicate process maps.
If you want to:
Know how to create a quality process map
Be able to communicate process maps to others
Drive continuous improvement in your team or business
Satisfy the requirements of external quality audits, for example ISO
Improve the quality of training in your business
Have a better approach to process planning
Then this process mapping course is for you.
The course is suitable for people of all levels and in all roles and industries.
Online Training Courses
A 1 day online live virtual training course with one of our highly experienced process mapping trainers. You also get:
A highly interactive online experience
Access to MyRevolution Learning to retain access to your materials and stay in touch with your trainer
A digital copy of the course materials from the course
A digital course certificate
In-Person & Online In-House
A 1 day training course with one of our highly experienced trainers at your location. You also get
Course materials for each delegate to take away
A course certificate
Reporting on delegate evaluation
Free access to our eLearning training courses to keep your skills up-to-date
Access to MyRevolution Learning to retain access to your materials and stay in touch with your trainer
Our process mapping courses are delivered by our friendly and highly experienced trainers. We live and breathe what we talk about in these sessions as we use most of the tools and techniques ourselves on a daily bases and bring this real-world experience into the session and the examples that we use.
Process mapping is a tool where a business documents stages in a procedure and publishes them for team members to see and follow. It allows you to guide people from one point to another and eventually to an outcome.
Why Would We Need Process Maps?
We've introduced some activities for you to have a go at in relation to process maps in our online course. If we do this course as an in-person course, then we go through the process of building and documenting a full process map with you.
Open Online Course
Our Online Process Mapping course is an interactive live virtual course. The content remains the same but the delivery and approach has been re-imagined for the virtual environment. Our online training courses are delivered by Zoom.
In-House Delivery
We can also deliver this Process Mapping course just for your organisation. We can do this in-person at your office or a location of your choice or as a live virtual training course. We can deliver this via Zoom, Teams, Webex or any other platform that you are currently using and comfortable with.
Here are the most recent reviews that have been left for our Process Mapping Training Course. If you would like to see more detailed reviews then please get in touch and we can pull some data from our course evaluations together for you.
Course Delivery Methods
Here's how we deliver our Process Mapping Training Course. Click an option to see the full details.
Join our live online virtual Process Mapping training course from work or home for an interactive online learning experience.
Price per delegate includes multiple person discounts. Group booking price only applicable when delegates book onto the same course date.
Bring this Process Mapping training course in-house and train your team together at the same time.
Delivered online or in person at your business premises
Course content can be tailored to your specific requirements
Complete the form below to get a personalised quote from a member of our team.